Oliewenhuis Art Museum, Bloemfontein
List of artists and their works
which form part of the original PELMAMA Permanent Art Collection,
on view at various times at the Oliewenhuis Art Museum, Bloemfontein.
>> Please click on links and/or images for more details! <<
*****
Artists and some links to the works

Number of

works
Works of art
ABRAMS, Lionel *
1+1
ADAMS, Richard Jurgens
2
ANDERSON, Ilona *
1
ARNOTT, Lauryn
12+1
BALDINELLI, Armando
1
BILGERI, Hans *
1
BLOM, John J
3+3
BLOM, Willem (Wim) *
1
BODENSTEIN, Erna
1
CATHERINE, Norman
119
CLARKE, John *
1+9
COETZEE, Christo
3
DE VILLIERS, Adrian
1
FRADAN, Cyril *
1+1
GELB, Pearl *
1
HARINGTON, Elizabeth
1
HARLING, Frank
2
HEYNIKE, Jan
4 + 1 (6)
HUYSER, Maryna
4
JAROSZYNSKA, Karin
1+1
JAROSZYNSKI, Tadeusz
1+1+1
KLOPPERS, Jacobus
1
KORS, Stanislaw *
1+2
KRUGER, Braam
1
LIPSCHITZ, Rachelle *
1
LOTTERING, Willi
1
MABASO, Richard *
1+1
MALEMANE, Sellolucas (Lucas)
2
MASON, Judith
1
MBUYISA, Joel Bhekuyise
1
MEERKOTTER, Dirk *
2+2
MOOLMAN, Johann
1
MPHAHLELE, James
6
NAGEL, Sybille Beatrix *
1
NKOSI, Stanley Bongani
1
QUIN, Maureen
1
RAKGOATHE, Dan
2
ROUX, Pieter
3
SCHIMMEL, Fred
1
SCHWARZ, A.D.
5
SCOTT, Louis
1
SIBIYA, Lucky
1+2
SIBIYA, Lucky - Umabatha portfolio
1 (15)
SITHOLE, Lucas
8
SKOTNES, Cecil
3
STEYN, William
1
VAN NAZARETH, Herman
1
VAN RENSBURG, Nico
2
VAN WEZEL, Maggie.Dunbar *
1
VERSTER, Andrew *
2
WATSON, Stephanie *
1
ZONDI, Michael
1
ZYTKOW, Sonja
1
Editions 21
9 Artists:: 73 orig. graphics - a master set
73
Note: Works from the Gertrude Agranat Bequest are marked with an *
The above list includes a great number of works of art from the PELMAMA PERMANENT ART COLLECTION received from THF Basel during April 2006, as an outright donation to the Oliewenhuis Art Museum (D2006). Likewise, a large collection of fine art books on international artists was received.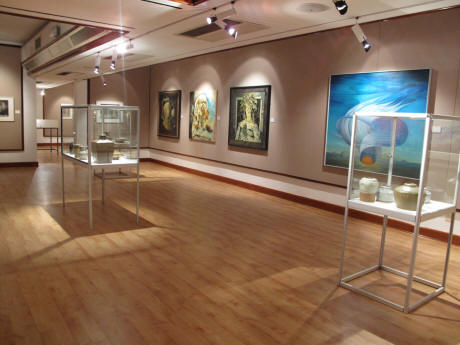 At the same time the OAM received as an outright donation a few works from a private collection in Basel, not being part of the PELMAMA Permanent Art Collection: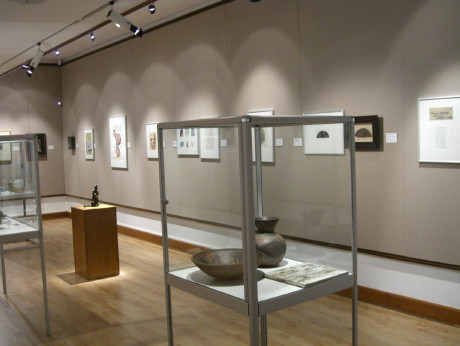 As the Oliewenhuis Art Museum funded all costs relating to the packing, air transport and transit insurance from Basel to Bloemfontein during April, 2006, it was agreed that all works which had previously been on temporary loan to the OAM were henceforth considered to be on permanent loan to the OAM.
Works of art from the PELMAMA PERMANENT ART COLLECTION at the Oliewenhuis Art Museum on YOUTUBE
See also additional 3 YOUTUBE uploads relating to this Donation!
The exhibition of the collection of works from the PELMAMA Permanent Art Collection at the Oliewenhuis Art Museum, Bloemfontein, was officially opened on 9th July, 2007, by Mr Vusithemba Ndima, Chief Director: Heritage, National Department of Arts and Culture (see PDF for stills).
A DVD was made of the opening party - copies can be ordered from the Museum's office, at a nominal cost of ZAR60 each, including postages.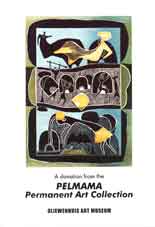 On this occasion, a richly illustrated catalogue (56 pages with 126 illustrations in colour) listing 348 works, was published by the Oliewenhuis Art Museum, in an edition of 300 only, and can be obtained directly at this link from the Museum's office.
| | |
| --- | --- |
| | Should there be no more copies left, please click on the following link to view the complete catalogue - 5.6 MB - copyright © Oliewenhuis Art Museum, Bloemfontein 2007 - (broadband connection recommended!) - COMPLETE CATALOGUE |
For previous information relating to this exhibition, you can also see this link to view the invitation and the advance notice which was published in "Ditaba" Issue XI, November 2006 - January 2007.